hcxf-series
A highly flexible design to measure DC link current as well as phase current in motor control applications
Sensing 100 A to 1,600 A in automotive inverters
The HC5FW and HC16F current sensors are particularly well suited to measure the DC link current as well as the phase current in motor control application such as automotive xEVs' traction inverters. The open loop Hall-based LEM current sensor technology allows to measure the magnetic field generated by the primary current flowing in a busbar inserted in the sensor slot and deliver a galvanically isolated output voltage proportional to the primary current. The tightly controlled assembly and calibration of a LEM designed magnetic core with a LEM proprietary ASIC results in high performance.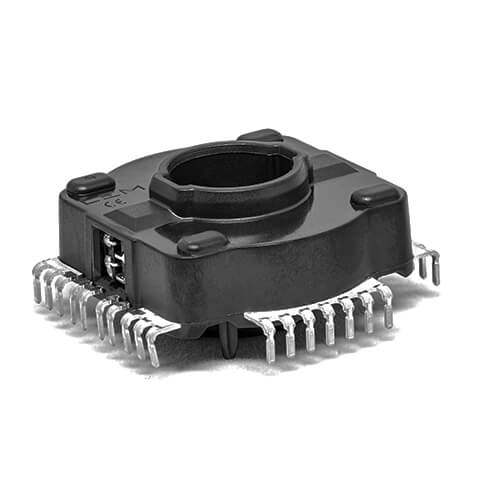 Main benefits:
Capacity to measure bidirectional DC and AC currents with an output at 0.5V for -IPN, 2.5V at 0A and 4.5V at +IPN 
Large choice of calibration range, from 100 A up to 1600 A
High performances 
Excellent cross talk immunity
A highly flexible design simplifying design and assembly
HC16F for up to 1,600 A
The HC16F is the latest development from LEM to meet the need for high current and high accuracy sensing in a small, light, and easy to mount package. While the overall footprint is defined by the busbar opening, the LEM design with dual airgap allows significant reduction of the size and weight of the magnetic core, improving vibration characteristics as well as reducing usage and cost of raw materials compared to a traditional C-core sensor. The HC16F is only 37.2x32.6 mm for 29g while it can measure up to 1600 A!
In addition, the HC16F provides excellent immunity against cross talk thanks to a dual ASIC configuration that cancels the effect from external fields.
 
HCxF series, A high flexible design
Inverters often consist of a vertical stack of a cooling jacket, power module and gate driver board. In this configuration, the HCxF family can be mounted flat directly on the gate driver board to sense current on the busbar going through the PCB from the power module to the motor connector.
The round aperture of the sensor can accommodate rectangular as well as round busbars, offering flexibility in the busbar design. The addition of a sleave underneath the package through the PCB allows to isolate the busbar and meet high voltage isolation requirements.

The HCxF sensors are available in through hole, pin in paste or SMD package, saving the cost of an external connector and simplifying the sensor assembly.
More about HCxF series characteristics
| | | | | | | | |
| --- | --- | --- | --- | --- | --- | --- | --- |
|   | Current measuring range | Busbar opening | Package siz | PCB connection | Insulation voltage | Creepage | Datasheet |
| HC5FW S/SP1 | 100, 200, 300, 400, 500, 600, 700, 800, 900 A | 12.5 mm round diameter | 33.75 x 27.5 x 12 mm | Through Hole (THD) | 2.5 kV | 3.6 mm PLC1 | HC5FW S/SP1 |
| HC5FW S | 100, 200, 300, 400, 500, 600, 700, 800, 900 A | 12.5 mm round diameter, with sleeve | 33.75 x 27.5 x 12 mm | Through Hole (THD)  |  2.5 kV | 7.1 mm, PLC1, PLC0 on cover | HC5FW S |
| HC16F S00 | 1000, 1100, 1200, 1300, 1400, 1500, 1600 A | 13.5 mm round diameter, with sleeve | 37.5 x 37.5 x 12.7 mm | Plated Through Hole (THD), Pin in Paste compatible | 3.6 kV | 11 mm, PLC3 | HC16F S00 |
| HC16F S01 | 1000, 1100, 1200, 1300, 1400, 1500, 1600 A | 13.5 mm round diameter, with sleeve | 43.92 x 43.92 x 12.7 mm | Surface Mount (SMD) | 3.6 kV | 11mm, PLC3 | HC16F S01 |