AT, TT
Split-core current transformers for measuring AC current
AT, TT - Smart Grid and Automation Current transformers
The AT and TT family comprises split-core sensors designed for the electronic measurement of AC waveform currents while ensuring galvanic isolation between the primary circuit and the secondary circuit.
AT current transformers are known for their versatility in output types. They are available with either a current or voltage output, with options including 4-20 mA, 0-5 V, or 0-10 V. In addition, they feature a Terminal output and a 16 mm diameter aperture. These AT sensors also provide a RMS (average) output.
On the other hand, TT current sensors are offered with either an 8 mm or 16 mm diameter aperture and come with a 1-meter cable output for added flexibility in installation.
Both product series, AT and TT, are primarily tailored for use in the energy, smart grid, and automation domains, where accurate current measurements are crucial.
AT and TT split-core transducers rely on the current transformer technology, which is based on air-core technology.
AT, TT – Features and benefits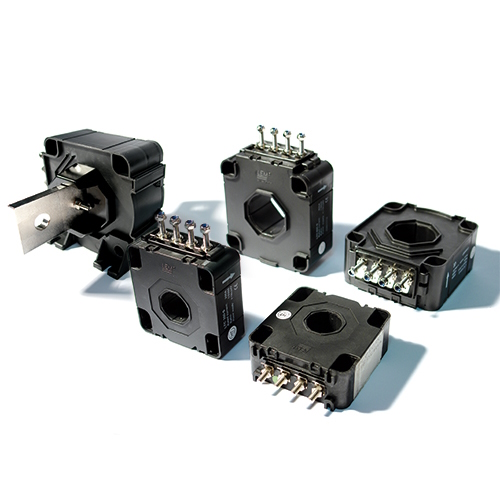 Main characteristics
Split-core type
⌀ 16 mm sensing aperture for non-contact measurement (TT components are also available with a ⌀ 8 mm aperture)
Insulating plastic case recognized according to UL 94-V0 
Terminal output for the AT Series
Cable output (1m) for the TT Series
Benefits
High total error and low phase shift (TT)
High insulation between primary and secondary circuits
Compact case
Cost-effective solution
Easy installation
Typical applications
AT and TT products are purposefully manufactured for applications within the energy and automation domains. These split-core current sensors find utility in a wide variety of applications, including:
Automation and Supervision: Current measurement for process regulation by distributed PLCs or remote control (e.g. SCADA software)
Safety and Condition Monitoring: Load monitoring for protection systems and predictive maintenance (e.g. conveyers, pumps or HVAC motors) 
In addition, TT transducers can extend their use to the following applications:
Power meter: Current measurement for active power calculation
Energy sub-meters: For energy efficiency monitoring, consumption analysis and costs allocation
Power quality monitoring
Distributed measurement systems
LEM AT, TT – Download & Technical Characteristic
AT, TT Sensors – ASK FOR SAMPLES / QUOTATIONS
Looking to receive samples or a quotation? Please click on the contact button below and provide us with the information you need on this product series. Our sales team will get back to you shortly.