HAH2
High performance dual phase current sensor +/- 500A. Suitable for high power motor control and inverter applications, with high integration
HAH2 - Automotive current sensors
The HAH2 family is a dual-phase sensor for DC, AC, or pulsed currents measurement in high power and low voltage automotive applications. It offers a galvanic separation between the primary circuit (high power) and the secondary circuit (electronic circuit).
The HAH2 family gives you a choice of having different current measuring ranges in the same housing (from ±100 up to ±500 A).
The HAH2 automotive current sensors are designed on the open loop hall effect technology.
HAH2 – Features and benefits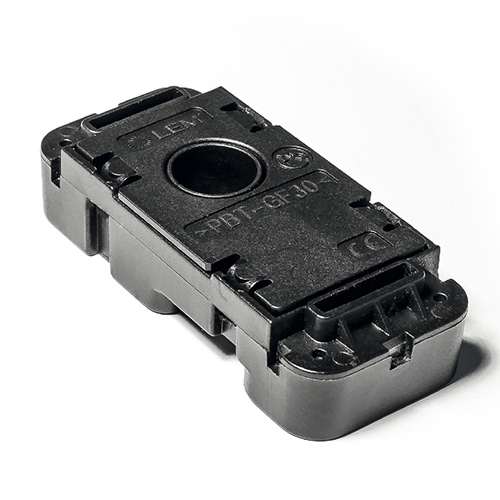 Features
Open Loop transducer using the Hall effect sensor
Low voltage application
Unipolar +5 V DC power supply
Primary current measuring range up to ±300 A
Maximum RMS primary admissible current: limited by the busbar, the magnetic core or ASIC T < +150 °C
Operating temperature range: −40 °C < T < +125 °C
Output voltage: fully ratio-metric (in sensitivity and offset)
Main characteristics
Excellent accuracy
Very good linearity
Very low thermal offset drift
Very low thermal sensitivity drift
Wide frequency bandwidth
No insertion losses
Very fast response time
Typical applications
The HAH2 automotive sensors are purposefully engineered for demanding high-power motor control and inverter applications. These applications include but are not limited to:
Starter Generators
Inverters
HEV applications
EV applications
DC / DC converters
 
LEM HAH2 – Download & Technical Characteristic
| Product | Document | Primary nominal RMS voltage | Supply Voltage range | Op. Temperature |
| --- | --- | --- | --- | --- |
| HAH2DR 300-S00 | | 300 A | 5 to 5 | -40 to 125°C |
| HAH2DR 500-S00 | | 500 A | 5 to 5 | -40 to 125°C |
HAH2 Sensors – ASK FOR SAMPLES / QUOTATIONS
Looking to receive samples or a quotation? Please click on the contact button below and provide us with the information you need on this product series. Our sales team will get back to you shortly.