Smart DC-metering for EV charging stations
Smart and compact, the Direct Current Billing Meter (DCBM) gives charging station providers the ability to deliver a 'gas station' like experience, using an LCD display to show real time measurements, energy, alarms and legal data.

An excellent solution for retrofit and new DC fast charging stations from 25 to 400 kW, the DCBM uses industry standard data protocols. The results are: secured communication, authentic billing, easy connectivity to Cloud services and a faster certification process.

Main applications for LEM's DCBM are: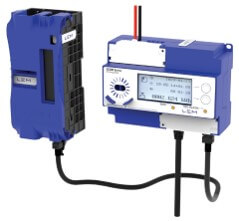 MAIN BENEFITS:
State-of-the-art LEM DC measurement
Shaped for industrial constraints
Easy integration for retrofit and new infrastructures
"Plug&Play" software integration
Flexible integration with busbars or cables
OCMF readouts compliant with S.A.F.E
Compliant for energy billing or parking time billing
System monitoring
MAIN FEATURES:
Proprietary split concept
Compliant with legal metrology for billing systems
Range of operation 150…1000 V DC
Two sizes: Imax 400A and Imax 600A
Robust design with wide current terminals, compliant with busbars
Bi-directional energy metering (V2G)
Accuracy Class B, -40°C to 85°C
Compliant with 4-wire measurement
Cable loss compensation
Ethernet communication with HTTP/HTTPS
Signed data readouts in OCMF or LEM format
Real-time monitoring of current / voltage / temperature / energy
Integrated display with backlight
Transaction handling with start & stop tags and user data fields and authentication
Auxiliary power supply range +12 ... +48 V DC
DIN rail 35mm and screw mounting
Length of Datalink cable from 30 cm up to 3.5 m
Reinforced insulation at 1000 VDC, OVC II, Uimp 8 kV
Sealing of terminals and interfaces
IP20 case rating
Support of NTP time sync., static/DHCP IP addressing
Event detections (over-temperature, time synchronization, detection of incorrect voltage connection)
LEM's DCBM series is the first to comply to European standards
EN 50470-1:2006, EN 50470-3:2006, PTB-A 50.7, PTB-A 20.1, CISPR32 Class-B emission, IEC 62052-11:2003, IEC 61000-6-2:2016, IEC 61000-6-3:2016, UL94-V0, Compliant with applications using VDE-AR-E-2418-3-100
Download DCBM 400/600 series documentation