ITN6&900
Made for high accuracy. DC, AC pulse currents' measurements from 600 to 1000 ADC nominal with galvanic isolation. Excellent linearity from 1 to 1.5 ppm. High resolution. Initial offset from 10 to 15 ppm. Very low offset drift from 0.3 to 0.5 ppm/K. Overall accuracy @ Ipn @ +25°C: < +/- 0.002 %. Wide frequency bandwidth up to 300 kHz (+/- 3 dB). Fluxgate technology. Electrostatic shield between primary and secondary circuit. Power supply +/-15 Volt. Operating temperature range from +10 to +50°C. D-Sub 9 male interface output. Current output. Really quick response time (<250 ns).
Model details
ITN 1000-S ULTRASTAB
High accurate current transducer. 1000 ADC nominal
Series

ITN6&900

Measurement

Current

Nominal Value

1000 A

Measuring Range

1000 A

Second. Nominal Signal

Current

Second. Nominal Signal Value

Instantaneous 667 mA

Primary Signal

AC + DC

Supply Voltage

External DC Bipolar

Supply Voltage Range

15 - 15 V

Accuracy

0.00115 %

Op. Temperature

10 °C / 50 °C

Technology

Closed loop Fluxgate IT type

Mounting

Applications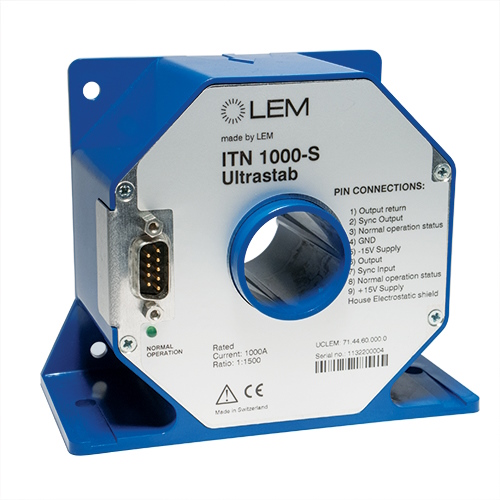 PICTURE
FRONT
BACK
LEFT
RIGHT
Download
Relative information
Order
Contact Information
Series
Product of the same series
High accurate current transducer. 900 ADC nominal.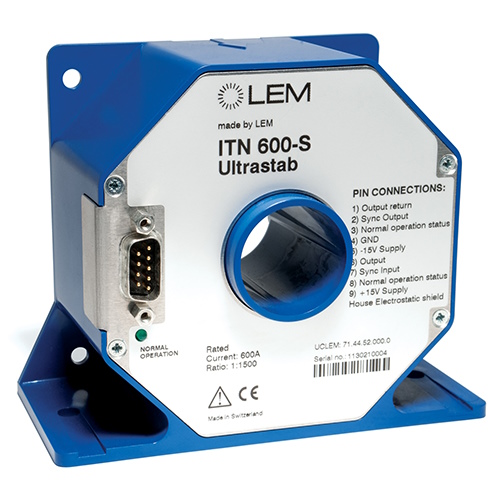 High accurate current transducer. 600 ADC nominal.