TEMA4G
Our first plug-and-play solution for on-board train energy metering
Energy management in railway applications involves an on-board energy measurement system (EMS) and ground-based data collecting system (DCS). These systems allow railway operating companies to manage energy cost for each train based on real, precise and controlled measurement under the regulation (EU) 2018/868 in Europe. By offering the on-board energy metering solution – TEMA4G – LEM supports the evolution of railway networks and meets the demand for management and optimisation of energy costs in railway transports.
Combines energy metering and communication in a single solution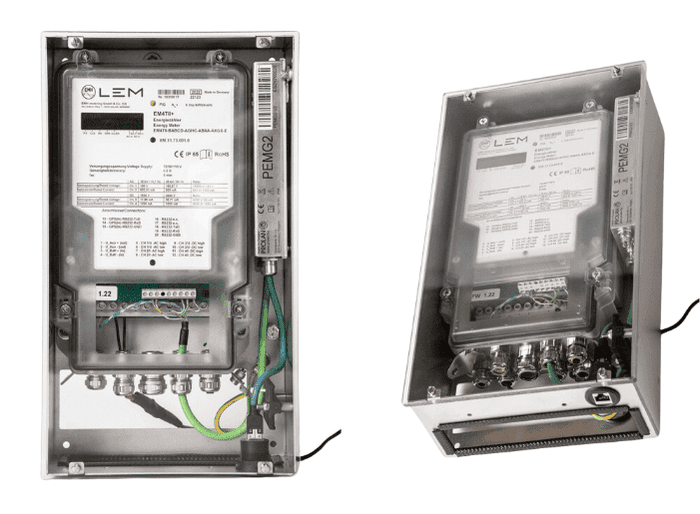 TEMA4G combines LEM's EM4TII+ on-board energy meter – already in service and proven in many trains – with an industrial modem offering 4G and GPS connectivity. Through its web interface the system allows users to access detailed load profiles, as well as numerous system parameters Meeting every vibration, shock, fire protection, and electromagnetic compatibility railway standard, TEMA4G is a perfect fit for new projects such as large retrofit programmes and supports railway operating companies of all sizes in a transition towards better energy monitoring, management and optimisation.
Download press release
Operates in temperatures from -40°C to +85°C
Supports AC and DC rail networks
Compliant with EN 50463:2017
Mechanically compatible with previous TEMA4T
4 input channels for metering of both AC and DC signals of any existing traction network (600V DC to 3kV DC, 15kV AC 16,7Hz, 25kV AC 50Hz)
Accuracy < 0.5R according to EN 50463-2
EMV-06 EMC compliant
Formatting of Compiled Energy Billing Data (CEBD)
Connection available for
Configuration via Ethernet port
D-coded RJ45 connector, fixed on box
Fixed IP address (by default: 10.63.255.117) or DHCP
Web interface password protected.
Power down
Support up to 2min to send data package completely
Alert sent via Modem
A Focus on EM4TII on-board energy meter
EM4T II is a single energy meter complying to all the requirements of EN 50463-x & EN 50155 standards for metering and On-Board use, and thus satisfies the requirements of EC Decision 2011/291/EC (TSI "Locomotives and passenger rolling stock").
EM4T II processes signals from the transformer and electronic converter systems for current and voltage to calculate energy values which are stored as load profile information.
In this load profile (set and stored in intervals between 1 to 15 minutes), the primary energy values are recorded together with data such as:
Date and time stamp
Events
Train identification numbers
Absolute energy values for consumption and regeneration of active and reactive energy
Frequency of the network (16.7 Hz, 50 Hz, 60 Hz or DC)
Additional "user" load profile like the voltage with a shorter time interval (feature coming in a second design step)
Position of the train at the time the load profile was stored and/or the event arose
Further functions, such as voltage detection can be set.
To know more about EM4TII