With IGBT and SiC inverter power modules
HAH3DR for xEV Automotive Traction Inverters
The open loop Hall-based current sensor measures the magnetic field generated by the primary current flowing in a busbar inserted in the sensor slot and delivers a galvanically isolated output proportional to the primary current. The sensor can measure bidirectional DC and AC currents with an output at 0.5V for -IPN, 2.5 V at 0 A and 4.5 V at +IPN.
With a ratiometric output, the current sensor can share the same power supply as the Analog to Digital Converter (ADC) and prevent further error during the signal conversion due to reference mismatch.
The tightly controlled assembly and calibration of a LEM designed magnetic core with a LEM proprietary ASIC results in low offset, excellent linearity and high global accuracy specified over temperature and over lifetime.

The HAH3DR family has been designed to achieving fast response time, a high bandwidth and withstanding high dV/dt levels required for motor control applications. Because the mechanical integration of the sensor is key for a compact assembly, LEM has developed two distinct designs within the HAH3DR family:
The HAH3DR S07/SPx versions are specifically designed to fit within an inverter module such as the Infineon HybridpackTM Drive, with press-fit connection to the gate driver board.
The HAH3DR S0x versions are designed to fit on thick busbars and available with a cable connector. S0x versions are specifically recommended to customers who look for a solution where the current sensor is located further away from the inverter module.
FEATURES & APPLICATIONS:
Capable of measuring bidirectional AC and DC current
Galvanic isolation
Ratiometric output
Up to 1200 A (1500 A ongoing development)
High global accuracy, high linearity, low offset specified over temperature and lifetime
Fast response time, high bandwidth
Rugged against high dV/dt
Compact footprint for IGBT and SiC inverter power modules
Various mounting options
Automotive qualified
For traction inverters
Quality Managed products suitable for safety relevant applications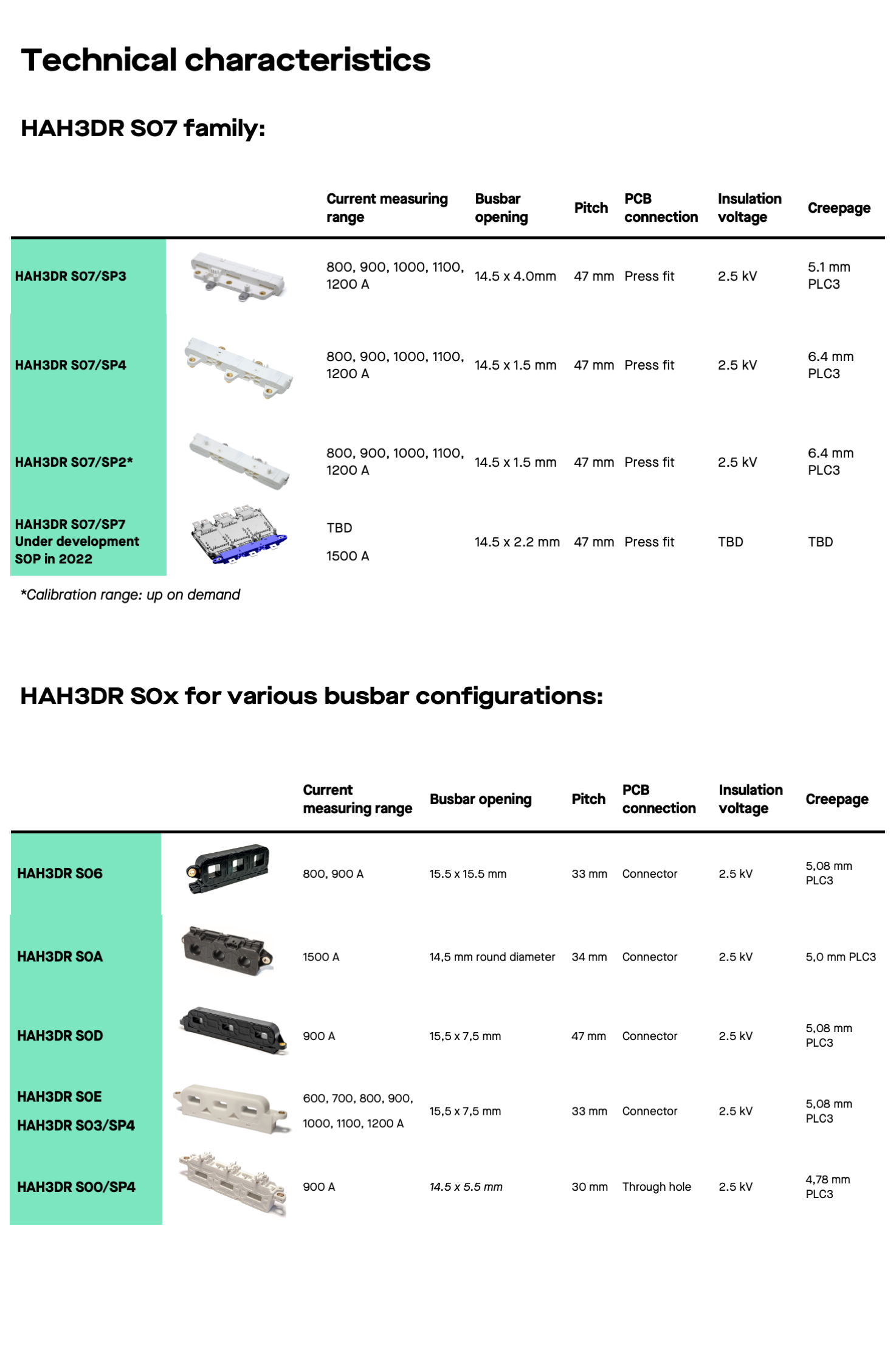 HAH3DR S07/SPx for IGBT and SiC inverter modules
Lead pitch, busbar opening, mounting holes, package height and press-fit connection to the gate driver board, the HAH3DR S07/SPx is designed to perfectly fit standard inverter modules such as Infineon's HybridpackTM Drive package and other pin-to-pin compatible modules.
The HAH3DR S07 is available in different versions to address specific mounting requirements: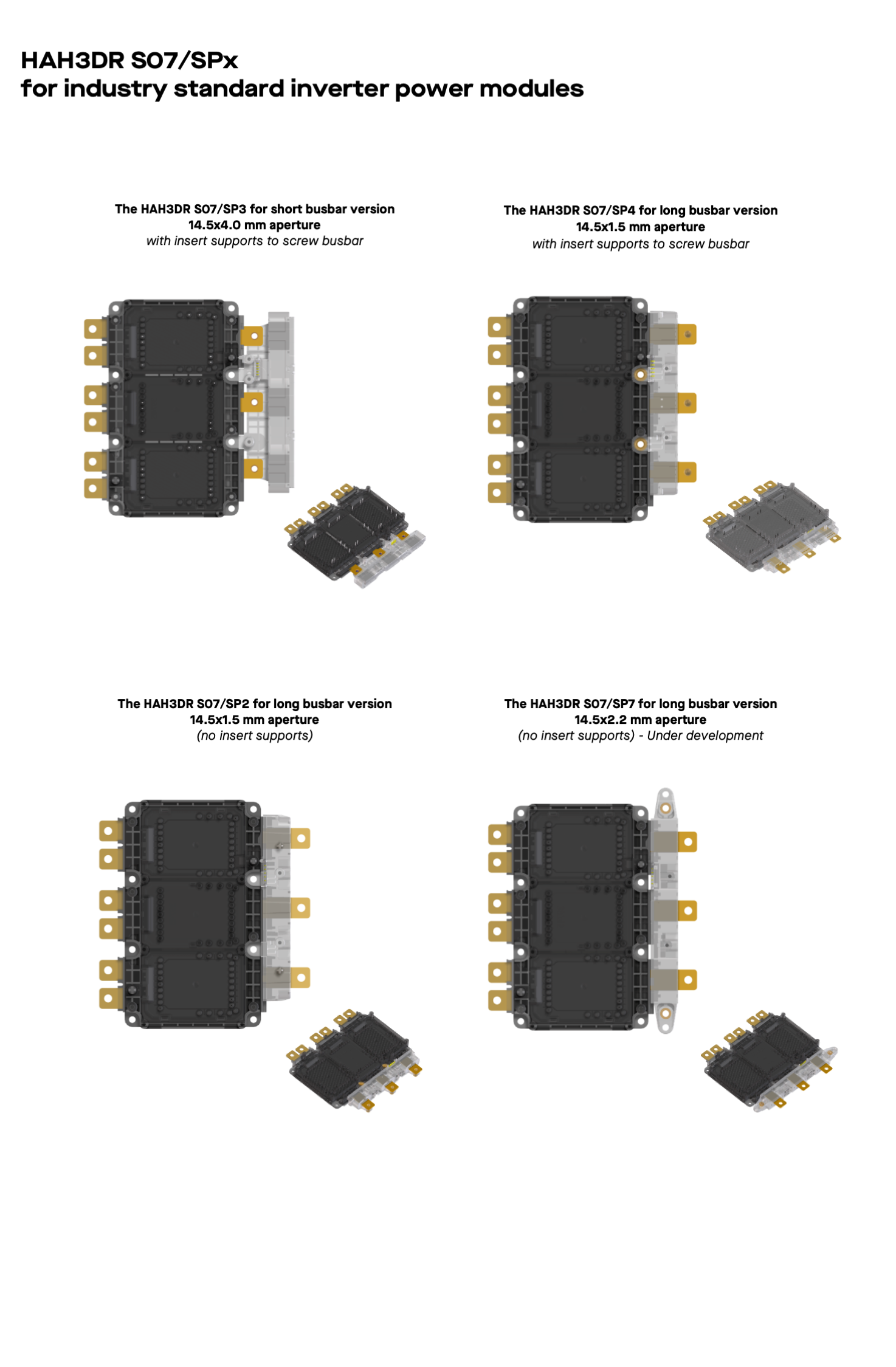 HAH3DR S0x for various busbar configurations
The HAH3DR-S06, S0A, S0D, S0E allow for current measurement on different configurations of busbar shape, thickness, and pitch. They also feature a cable connector for direct connection of the sensor output to a control board which may be located further away from the inverter.
The HAH3DR S00/SP4 offers a through hole connection to the gate driver board if located right on top of the sensor.