HXS Family
SMART & SMALL at a very favorable price.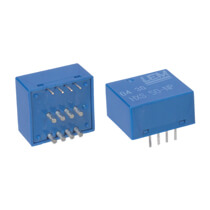 Main characteristics:
Very good price/performance ratio
2 standard multi-range models
PCB mounting
Small DC&AC isolated currents' measurement from 5 to 50 ARMS nominal
Only 3,05 cm3 as volume occupied on the PCB
Really flat: 1cm height only!
Measuring range up to 3 x IPN
Operating temperature range: -40 to +85°C
Features:
Single supply +5 Volts
Isolation test voltage: 2,5 KVRMS / 50Hz / 1min
Voltage output
Fixed offset and gain
Reference access
HXS models are multi-range according to the primary connection configuration.
Need of a higher operating temperature range: -40 to +105°C proposed with the SP2 models.