IT, ITN
Highly accurate Fluxgate current sensors
IT, ITN - High precision current sensors
The IT and ITN product families are engineered for ultra-high precision current measurement. They are optimized to deliver exceptional accuracy in measuring DC, AC, and pulsed currents while providing galvanic isolation between the primary and secondary conductors, thus contributing to the high performance of the overall system.
IT and ITN Ultrastab current sensors are designed to provide high-precision measurements within a range of 60 to 1000 ADC nominal current, all while maintaining galvanic isolation. These sensors are known for their outstanding linearity, high resolution, and rapid response times. They are intended for panel mounting in various applications where precision is essential.
Within this product family, the ITN 12-P Ultrastab stands out with unique characteristics compared to the other components. It maintains the key features shared by the rest of the family and can also be used for high-precision current measurement. However, ITN 12-P is specially designed for PCB mounting and features a metal housing for enhanced immunity against external interference.
Both IT and ITN current transducers operate based on the closed-loop Fluxgate technology, which ensures ultra-accuracy in any system where they are employed. This technology enables highly precise current measurements, making these sensors suitable for applications demanding the utmost precision and reliability.
IT, ITN – Features and benefits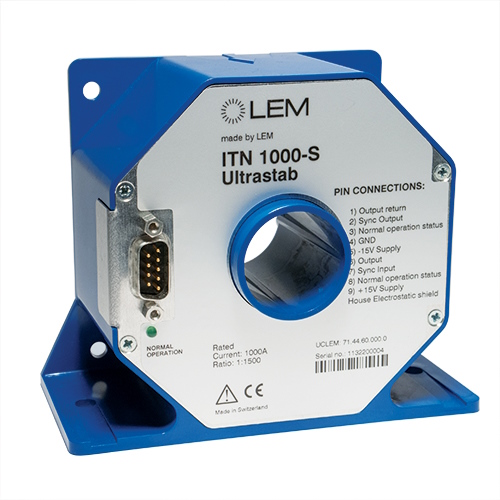 Features
Nominal AC&DC isolated current measurements: from 12.5 and 1000 ADC
Closed loop (compensated) current transducer using an extremely accurate zero flux detector
Electrostatic shield between primary and secondary circuit
9-pin D-Sub male secondary connector
Status signal to indicate the transducer state
LED indicator confirms normal operation
Current output
Really quick response time 
Main characteristics
Very high accuracy
Excellent linearity
Extremely low temperature variation
Very low offset drift
Wide frequency bandwidth
High immunity to external fields
No insertion losses
Low noise on output signal
Low noise feedback to primary conductor
High resolution
Typical applications
IT and ITN high-precision sensors are indeed excellent choices in a wide range of applications where highly accurate current measurement is essential. They are particularly well-suited for industrial, laboratory, and medical environments where precision is mandatory. These applications can encompass:
Feedback element in high performance gradient amplifiers for MRI
Feedback element in high-precision, high-stability power supplies
Calibration unit
Energy measurement
Medical equipment
LEM IT, ITN – Download & Technical Characteristic
IT & ITN Sensors – ASK FOR SAMPLES / QUOTATIONS
Looking to receive samples or a quotation? Please click on the contact button below and provide us with the information you need on this product series. Our sales team will get back to you shortly.