HO Series
Intelligent & interactive current transducers
HO 25 -NPPR & -NSMPR:
Programmable models by users
Through hole or surface PCB mounting
HO 8; 15; 25 -NP & -NSM: 
Already programmed models (fixed setting parameters)
Through hole or surface PCB mounting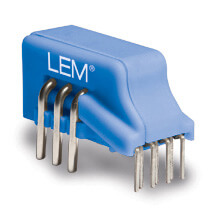 Main characteristics:
Three programmable ranges: 8 ARMS, 15 ARMS, 25 ARMS (25 ARMS set by default)
Overcurrent detection with programmable thresholds (up to 5 x IPN)
Programmable response time (from 2 to 6 µs)
Up to 4 programmable internal references voltages (0.5, 1.5, 1.65, 2.5 V)
Access to voltage reference
Low offset and gain drift
Measuring range up to 2.5 x IPN
Small DC&AC current measurements from 2.67 to 25 ARMS nominal thanks to multirange configuration
Small design (12 (W) x 23 (L) x 12 (H))
High accuracy at 25°C: 1% of IPN at 105°C: 3.8% of IPN
Creepage & clearance distances: 8 mm + CTI 600
Each model is multi-range according to primary connection configuration
Programmable low-power mode (Vref disconnecting)
Programmable fault reporting
Standby mode
HO 25 -NPPR & -NSMPR can be digitally programmed by user for some parameters, functions (gain, internal reference used, response time, overcurrent detection level, fault reporting and low-power mode)
Three HO programmed models are also available in each version (through hole and surface PCB mounting). These are HO 8 & 15 & 25 -NP and 8 & 15 & 25 -NSM models. These programmable parameters/ functions are fixed in factory and can not be programmed by user afterwards.
Features:
Single supply 0, +5 V or 0, +3.3 V
Isolation test voltage: up to 4.3KVRMS / 50 Hz / 1 min
Through hole (-NPPR or - NP) or surface (-NSMPR or -NSM) PCB mounting models
Operating temperature range: -40°C to +105°C
Voltage output (0.8 V @ IPN)
Bandwidth DC... 100 to 600 KHz (-3 dB)